"One of the best weekends of my entire life."
Raffael Dickreuter, Visual Effects Artist, Iron Man
"Of all the workshops I've been to, PhotoKamp has the smallest classes, the best models, and the longest shooting time for photographers."
John Agger, Photographer
"PhotoKamp was a life-changing experience for me."
Von Jackson, Photographer/Art Director
By popular demand, photographer Nick Saglimbeni has designed a workshop like none other! In a single weekend, he'll show you mind-blowing lighting setups, from the simple to the complex, and teach you how to navigate through the cutthroat photography industry.
PhotoKamp Los Angeles Dates Announced!

April 4-6, 2014: Los Angeles, CALIFORNIA- You asked for it—you got it! PhotoKamp is coming home! Click here to learn more!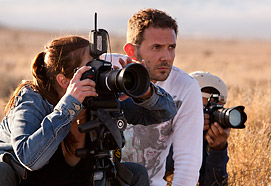 About Nick's Saglimbeni's PhotoKamp:
PhotoKamp is a 2.5-day intensive learning workshop, with special emphasis on both studio and location lighting, as well as the business of photography.
Unlike other seminars, you'll learn by doing, instead of falling asleep listening to a lecture. You'll have the chance to watch Nick light, then assist him in an actual professional shoot, and finally you'll light and photograph professional models under the supervision of Nick and his team!
Learn more or Sign Up now!